We're working to discover, monitor, protect, and value blue carbon ecosystems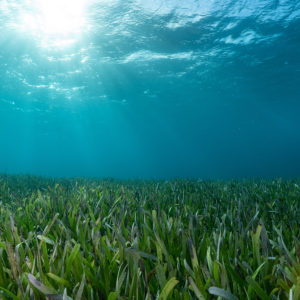 The seafloor holds the largest pool of organic carbon on Earth. This carbon is known as "blue carbon."
Seagrass meadows, mangrove forests, and salt marshes – the main blue carbon players – sequester up to 4X more greenhouse gasses than their terrestrial counterparts.
These ecosystems are important nature-based solutions to climate change. They also safeguard biodiversity, support fisheries, and buffer coastlines against storms. We love blue carbon.
Blueprint™ is a three-phased toolkit designed to discover, value, and protect blue carbon ecosystems through annual recurring revenue.
Phase 1:
Cutting-edge science
Mapping blue carbon ecosystems using exclusive aerial and subsurface instruments, driven by our partnership with Hexagon, the world's leading provider of high-resolution bathymetric LiDAR and aerial imaging.
Sampling blue carbon stocks with pre-validated coring methodologies, such as sediment coring.
Measuring blue carbon CO2e stocks
with pre-validated organic carbon
lab analysis.
Phase 2:
Project Verification
Enacting legal designations.
Submission of project documentation to selected carbon registry.
Managing project verification and facilitation of project validation with exclusive accredited third parties.
Phase 3:
Management
Facilitating carbon credit transactions and the management of registry accounts.
Allocations of revenues to support of local-led initiatives.
Compliance, monitoring, re-verification.
Public sector
Recurring revenue for national conservation initiatives and job creation.
Private sector
Science-backed, verified, premium blue carbon credits to offset non-avoidable emissions.
Global
Increased protection of climate-change fighting ocean habitat while scaling the science around blue carbon.
Blueprint™ is currently activated in multiple countries in The Greater Caribbean region, working directly with governments to map, monitor, and register their blue carbon projects.
Working alongside local stakeholders, we are creating the benchmark for the future of blue carbon projects worldwide. This project will protect over 80,000 square kilometers (50,000 square miles) of blue carbon habitat and will generate millions of carbon credits per year.
We launched our program in The Bahamas – home to the world's largest seagrass meadow, a discovery made by our team after nearly a decade of conservation research and a partnership with tiger sharks.
First to
Market
We are one of the first in blue carbon project management, which we believe will drive the highest conservation returns.
Communities
First
We engage local communities at all levels of our work, and have a demonstrated track record of putting communities first and ensuring they receive the greatest benefits.

Global
Experience
We've completed projects in over 25 countries, working with local governments, heads of state, and driving effective public-private partnerships.
Scientific
Credibility
Our approach is backed by true world-class scientists who have a history of demonstrated leadership and innovation in the space. Our methods are registry-approved and validated by leading carbon registries and standards..
Exclusive
Technology
We have formed exclusive technology partnerships to take our work to the next level, which also allows us to achieve scale and sample massive plots of ocean and coastline.
Storytelling
We work with some of the world's leading environmental storytellers to make blue carbon exciting. With every project site and credit, there is a beautiful and inspiring story.
Interested in learning more about our program?
Let's connect and talk blue carbon.
Blueprint is part of the Beneath the Waves Group